---
---
The Easiest Way to Sell Your Nashville House in ANY Condition.
The Easiest Way to Sell Your Nashville House in ANY Condition.
GET YOUR NO OBLIGATION CASH OFFER IN LESS THAN 24 HOURS.
Trusted

Cash Home Buyers in Nashville since 2016
We Buy Houses in Nashville Fast!
We buy houses in Nashville, TN for cash. If it's time for you to sell your house fast in Nashville, then look no further. We've got you covered! We are top cash home buyers in Nashville, Tennessee and we buy houses for cash - no realtors, commissions, fees or repairs needed. You can sell your Nashville house fast to us exactly as it is and we'll even close on your schedule.
INTERESTED IN LEARNING MORE?
FOLLOW THE 3 STEPS BELOW TO BEGIN THE PROCESS
The Blackjack Real Estate 3-Step Process
---
Step 1
Visit Our How It Works Page
Understand how the process works and learn how we come up with our offer.
Step 2
Check Out Our Reviews
We know you likely want to know more about who you might be working with. See what some our happy home sellers have had to say about us!
Step 3
Request Your Fair Cash Offer
We will reach out within 24 hours to learn more about your house or rental property. Fill out your information and let us take it from there!
People Love Working With Us!
---
"The process wasn't painful at all! I don't have to do any of the work on my home."
"I've never had anything go this smoothly and I'm very very happy!"
"The offer was fair and the transaction was fast! I'm very pleased."
"They fulfilled their promise that they said they would do. They did a great job!"
Google
4.7 Star Rating
"When choosing your partners for real estate investments, choose character and integrity. That's exactly what you get when you work with the team at Blackjack!"
Brandon J. ⭐⭐⭐⭐⭐
Sell My Nashville House For Cash
We buy houses in Nashville, TN with cash, which means that we can close quickly, without a realtor and on your schedule. When you work with Blackjack Real Estate, there's no more waiting around for months for your house to sell or for the bank to approve your loan. You can sell your Nashville house fast without the stress of a typical home sale!
---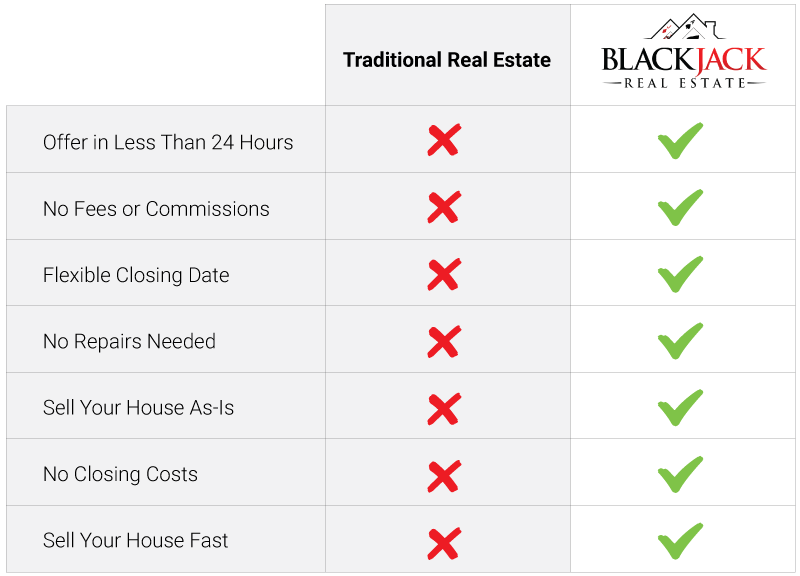 We Pay All Cash
Because we pay cash, we can be flexible and close on your time frame. We don't need to wait for an appraisal or lender approvals.
Easy & Clear Terms
We make this a simple, straight forward and easy to understand process for you.
We Do the Paperwork
We use a licensed and insured title company and we will make sure the details are taken care of, so you don't have to.
Zero Fees
You won't have to pay any title or closing costs.
Sell "As-Is"
You won't have to fix or clean anything! We will buy your home the way it is.
Close in Days
We can close in as little as 3 days.
Enter Your Nashville Address to
Of Selling to Blackjack Real Estate
Traditional Sales Process
6% of purchase price plus other fees
Price haggling and unpredictable offer
Clean up and repair hassle
Long sales timeline, often 2-3+ months
ZERO FEES to sell your home
Sell AS-IS. No cleanup or repairs, or showings
Close in just 10 days, or move at your pace, up to 60 days
Lower prices, zero transparency
High-pressure sales tactics, often not trustworthy
Small-scale local operators not a trusted brand
Facebook
4.9 Star Rating
"Outstanding company to work with on the sale of our family's home. After we signed the contract at our home, they were very accomodating since were no longer in the area . The closing went smoothly."
Charles E. ⭐⭐⭐⭐⭐
Reviews From Those We've Helped
"Every interaction I've had with Blackjack Real Estate has been impressive to say the least. They are looking for solutions to the problem and are always realistic with expectations. I'll always choose this company to help me sell a home when I'm in need."
– Devin R
"Great company, smooth transaction, and the most amazing people to work with. Terrie and Kristy made this first transaction such an easy and enjoyable experience. They walked me through every step of the way and made it a true family atmosphere. Not sure how this is accomplished when the company is spread throughout the east coast, but they manage to do it. It can only be done with exceptional people. I look forward to many more transactions together."
– Michael J
"Blackjack Real Estate is a Fantastic business to work with. Bill and his team are helpful and value the people they help. If you are looking to get rid of your home fast and need people you can trust, call Black Jack Real Estate NOW!"
– Gary O